Adult Fiction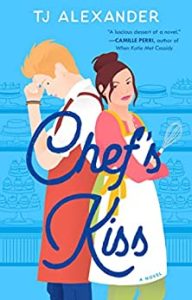 Chef's Kiss by TJ Alexander
Simone Larkspur is a perfectionist pastry expert with a dream job at The Discerning Chef, a venerable cookbook publisher in New York City. All she wants to do is create the perfect loaf of sourdough and develop recipes, but when The Discerning Chef decides to bring their brand into the 21st century by pivoting to video, Simone is thrust into the spotlight and finds herself failing at something for the first time in her life.
To make matters worse, Simone has to deal with Ray Lyton, the new test kitchen manager, whose obnoxious cheer and outgoing personality are like oil to Simone's water. When Ray accidentally becomes a viral YouTube sensation with a series of homebrewing videos, their eccentric editor in chief forces Simone to work alongside the chipper upstart or else risk her beloved job. But the more they work together, the more Simone realizes her heart may be softening like butter for Ray.
Things get even more complicated when Ray comes out at work as nonbinary to mixed reactions—and Simone must choose between the career she fought so hard for and the person who just might take the cake (and her heart).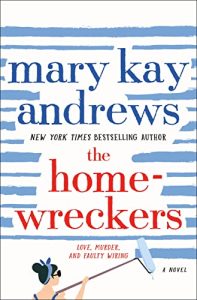 The Homewreckers by Mary Kay Andrews
Hattie Kavanaugh went to work restoring homes for Kavanaugh & Son Restorations at eighteen, married the boss's son at twenty, and became a widow at twenty-five. Now, she's passionate about her work, but that's the only passion in her life. "Never love something that can't love you back," is advice her father-in-law gives her, but Hattie doesn't follow it and falls head-over-heels for a money pit of a house. She's determined to make it work, but disaster after disaster occurs, and Hattie's dream might cost Kavanaugh & Son their livelihood. Hattie needs money, and fast.
When a slick Hollywood producer shows up in her hometown of Savannah, Georgia, she gets a once-in-a-lifetime opportunity: star in a beach house renovation reality show called The Homewreckers, cast against a male lead who may be a love interest, or may be the ultimate antagonist. Soon, there's more at stake than bad pipes and dry rot: during the demolition, evidence comes to light that points to the mysterious disappearance of a young wife and mother years before.
With a burned out detective investigating the case, an arsonist on the loose, two men playing with her emotions, and layers upon layers of vintage wallpaper causing havoc, it's a question of who will flip, who will flop, and if Hattie will ever get her happily-ever-after.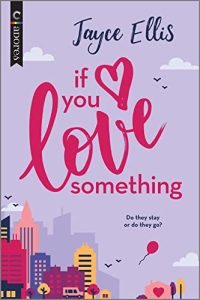 If You Love Something by Jayce Ellis
A marriage lost is found again in this cheeky new romantic comedy from acclaimed author Jayce Ellis. 
As executive chef at one of the hottest restaurants in DC, DeShawn Franklin has almost everything he's ever wanted. He's well-known, his restaurant is Michelin starred and he can write his own ticket anywhere he wants. Until his grandmother calls him home and drops two bombshells:
1) She has cancer and she's not seeking treatment.
2) She's willing half her estate to DeShawn's ex-husband, Malik.
Make that three bombshells. 
3) That whole divorce thing? It didn't quite go through. DeShawn and Malik are still married.
And when DeShawn's shady uncle contests Grandma's will, there's only one path back to justice: play it like he and Malik have reconciled. They need to act like a married couple just long enough to dispense with the lawsuit.
Once DeShawn is back in Malik's orbit, it's not hard to remember why they parted. All the reasons he walked away remain—but so do all the reasons he fell in love in the first place.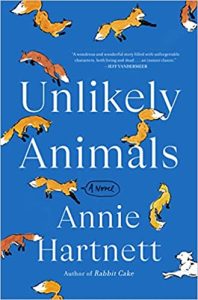 Unlikely Animals by Annie Hartnett
Natural-born healer Emma Starling once had big plans for her life, but she's lost her way. A medical school dropout, she's come back to small-town Everton, New Hampshire, to care for her father, who is dying from a mysterious brain disease. Clive Starling has been hallucinating small animals, as well as having visions of the ghost of a long-dead naturalist, Ernest Harold Baynes, once known for letting wild animals live in his house. This ghost has been giving Clive some ideas on how to spend his final days.
Emma arrives home knowing she must face her dad's illness, her mom's judgment, and her younger brother's recent stint in rehab, but she's unprepared to find that her former best friend from high school is missing, with no one bothering to look for her. The police say they don't spend much time looking for drug addicts. Emma's dad is the only one convinced the young woman might still be alive, and Emma is hopeful he could be right. Someone should look for her, at least. Emma isn't really trying to be a hero, but somehow she and her father bring about just the kind of miracle the town needs.
Set against the backdrop of a small town in the throes of a very real opioid crisis, Unlikely Animals is a tragicomic novel about familial expectations, imperfect friendships, and the possibility of resurrecting that which had been thought irrevocably lost.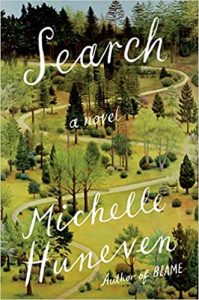 Search by Michelle Huneven
Dana Potowski is a restaurant critic and food writer and a longtime member of a progressive Unitarian Universalist congregation in Southern California. Just as she's finishing the book tour for her latest bestseller, Dana is asked to join the church search committee for a new minister. Under pressure to find her next book idea, she agrees, and resolves to secretly pen a memoir, with recipes, about the experience. That memoir, Search, follows the travails of the committee and their candidates—and becomes its own media sensation.
Dana had good material to work with: the committee is a wide-ranging mix of Unitarian Universalist congregants, and their candidates range from a baker and microbrew master/pastor to a reverend who identifies as both a witch and an environmental warrior. Ultimately, the committee faces a stark choice between two very different paths forward for the congregation. Although she may have been ambivalent about joining the committee, Dana finds that she cares deeply about the fate of this institution and she will fight the entire committee, if necessary, to win the day for her side.
This wry and wise tale will speak to anyone who has ever gone searching, and James Beard Award–winning author Michelle Huneven's food writing and recipes add flavor to the  delightful journey.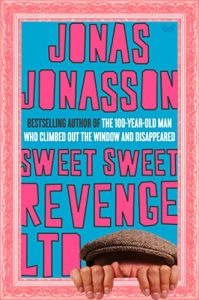 Sweet Sweet Revenge LTD by Jonas Jonasson
Meet Ole Mbatian Jr., a Maasai warrior; Kevin, his sort-of-son; Agneta, a wronged and penniless ex-wife; and Johan, an unscrupulous Stockholm ad-man whose company specializes in revenge services. 
As Agneta and Kevin seek revenge against the gallery owner who has wronged them, this madcap, funny and philosophical novel takes off on a madcap journey that spans five continents and whirls around a colorful cast of characters, including a goat called Molly and the Pope. 
As he's done in his previous novels, Jonas Jonasson acts as a travel guide through time, drops in a few lessons on colonialism and art history, and pokes fun at capitalism and the artworld, with plenty of laughs along the way.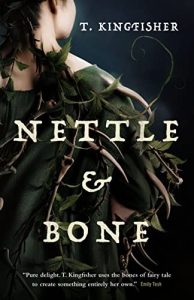 Nettle & Bone by T. Kingfisher
Marra never wanted to be a hero.
As the shy, convent-raised, third-born daughter, she escaped the traditional fate of princesses, to be married away for the sake of an uncaring throne. But her sister wasn't so fortunate—and after years of silence, Marra is done watching her suffer at the hands of a powerful and abusive prince.
Seeking help for her rescue mission, Marra is offered the tools she needs, but only if she can complete three seemingly impossible tasks:
—build a dog of bones
—sew a cloak of nettles
—capture moonlight in a jar
But, as is the way in tales of princes and witches, doing the impossible is only the beginning.
Hero or not—now joined by a disgraced ex-knight, a reluctant fairy godmother, an enigmatic gravewitch and her fowl familiar—Marra might finally have the courage to save her sister, and topple a throne.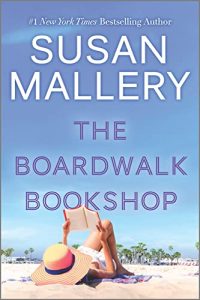 The Boardwalk Bookshop by Susan Mallery
When fate brings three strangers to a charming space for lease on the California coast, the Boardwalk Bookshop is born. Part bookstore, part gift shop, part bakery, it's a dream come true for Bree, Mikki and Ashley. But while their business is thriving, their personal lives are…not.
Bree, wounded by brilliant but cold parents and her late husband's ultimate betrayal, has sworn to protect her heart at all costs. Even from Ashley's brother, a writer and adventurer who has inspired millions. He's the first man to see past Bree's barricades to her true self, which terrifies her. Mikki has this divorce thing all figured out—somehow, she's stayed friends with her ex and her in-laws…until a new man changes how everyone looks at her, and how she sees herself. Meanwhile, Ashley discovers that the love of her life never intends to marry. Can she live without being a wife if it means she can have everything else she's ever wanted?
At sunset every Friday on the beach in front of the Boardwalk Bookshop, the three friends share a champagne toast. As their bond grows closer, they challenge one another to become the best versions of themselves in this heartachingly beautiful story of friendship, sisterhood and the transformative power of love.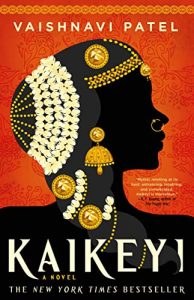 Kaikeyi by Vaishnavi Patel
I was born on the full moon under an auspicious constellation, the holiest of positions—much good it did me.
So begins Kaikeyi's story. The only daughter of the kingdom of Kekaya, she is raised on tales of the gods: how they churned the vast ocean to obtain the nectar of immortality, how they vanquish evil and ensure the land of Bharat prospers, and how they offer powerful boons to the devout and the wise. Yet she watches as her father unceremoniously banishes her mother, listens as her own worth is reduced to how great a marriage alliance she can secure. And when she calls upon the gods for help, they never seem to hear.
Desperate for some measure of independence, she turns to the texts she once read with her mother and discovers a magic that is hers alone. With this power, Kaikeyi transforms herself from an overlooked princess into a warrior, diplomat, and most favored queen, determined to carve a better world for herself and the women around her.
But as the evil from her childhood stories threatens the cosmic order, the path she has forged clashes with the destiny the gods have chosen for her family. And Kaikeyi must decide if resistance is worth the destruction it will wreak—and what legacy she intends to leave behind.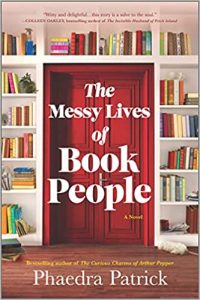 The Messy Lives of Book People by Phaedra Patrick
Mother of two Liv Green barely scrapes by as a maid to make ends meet, often finding escape in a good book while daydreaming of becoming a writer herself. So she can't believe her luck when she lands a job housekeeping for her personal hero, megabestselling author Essie Starling, a mysterious and intimidating recluse. The last thing Liv expected was to be the only person Essie talks to, which leads to a tenuous friendship.
When Essie passes away suddenly, Liv is astonished to learn that her dying wish was for Liv to complete her final novel. But to do so Liv will have to step into Essie's shoes. As Liv begins to write, she uncovers secrets from the past that reveal a surprising connection between the two women—one that will change Liv's own story forever…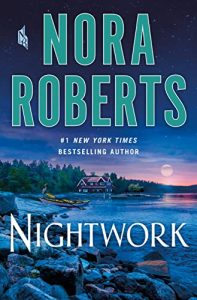 Nightwork by Nora Roberts
Greed. Desire. Obsession. Revenge . . . It's all in a night's work.
Harry Booth started stealing at nine to keep a roof over his ailing mother's head, slipping into luxurious, empty homes at night to find items he could trade for precious cash. When his mother finally succumbed to cancer, he left Chicago—but kept up his nightwork, developing into a master thief with a code of honor and an expertise in not attracting attention or getting attached.
Until he meets Miranda Emerson, and the powerful bond between them upends all his rules. But along the way, Booth has made some dangerous associations, including the ruthless Carter LaPorte, who sees Booth as a tool he controls for his own profit. Knowing LaPorte will leverage any personal connection, Booth abandons Miranda for her own safety—cruelly, with no explanation—and disappears.
But the bond between Miranda and Booth is too strong, pulling them inexorably back together. Now Booth must face LaPorte, to truly free himself and Miranda once and for all.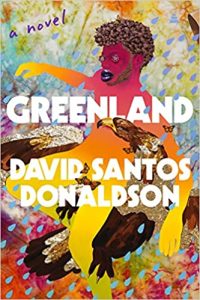 Greenland by David Santos Donaldson
In 1919, Mohammed el Adl, the young Egyptian lover of British author E. M. Forster, spent six months in a jail cell. A century later, Kip Starling has locked himself in his Brooklyn basement study with twenty-one gallons of Poland Spring to write Mohammed's story.
Kip has only three weeks until his publisher's deadline to immerse himself in the mind of Mohammed who, like Kip, is Black, queer, an Other. The similarities don't end there. Both of their lives have been deeply affected by their confrontations with Whiteness, homophobia, their upper crust education, and their white romantic partners. As Kip immerses himself in his writing, Mohammed's story – and then Mohammed himself – begins to speak to him, and his life becomes a Proustian portal into Kip's own memories and psyche. Greenland seamlessly conjures two distinct yet overlapping worlds where the past mirrors the present, and the artist's journey transforms into a quest for truth that offers a world of possibility.
Electric and unforgettable, David Santos Donaldson's tour de force excavates the dream of white assimilation, the foibles of interracial relationships, and not only the legacy of a literary giant, but literature itself.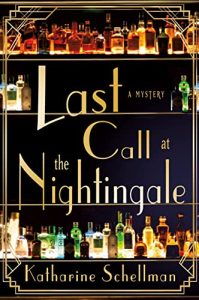 Last Call at the Nightingale by Katharine Schellman
New York, 1924. Vivian Kelly's days are filled with drudgery, from the tenement lodging she shares with her sister to the dress shop where she sews for hours every day.
But at night, she escapes to The Nightingale, an underground dance hall where illegal liquor flows and the band plays the Charleston with reckless excitement. With a bartender willing to slip her a free glass of champagne and friends who know the owner, Vivian can lose herself in the music. No one asks where she came from or how much money she has. No one bats an eye if she flirts with men or women as long as she can keep up on the dance floor. At The Nightingale, Vivian forgets the dangers of Prohibition-era New York and finds a place that feels like home.
But then she discovers a body behind the club, and those dangers come knocking.
Caught in a police raid at the Nightingale, Vivian discovers that the dead man wasn't the nameless bootlegger he first appeared. With too many people assuming she knows more about the crime than she does, Vivian finds herself caught between the dangers of the New York's underground and the world of the city's wealthy and careless, where money can hide any sin and the lives of the poor are considered disposable…including Vivian's own.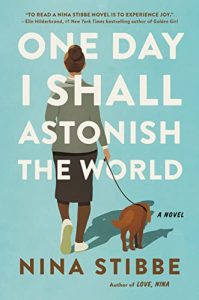 One Day I Shall Astonish the World by Nina Stibbe
Susan and Norma have been best friends for years, at first thrust together by force of circumstance (a job at The Pin Cushion, a haberdashery shop in 1990s Leicestershire) and then by force of character (neither being particularly inclined to make friends with anyone else). But now, thirty years later, faced with a husband seeking immortality and Norma out of reach on a wave of professional glory, Susan begins to wonder whether she has made the right choices about life, love, work, and, most importantly, friendship.
 
Nina Stibbe's new novel is the story of the wonderful and sometimes surprising path of friendship: from its conspiratorial beginnings, along its irritating wrong turns, to its final gratifying destination.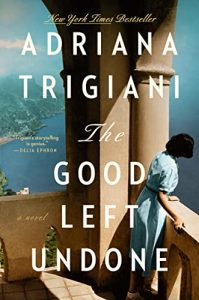 The Good Left Undone by Adriana Trigiani
Matelda, the Cabrelli family's matriarch, has always been brusque and opinionated. Now, as she faces the end of her life, she is determined to share a long-held secret with her family about her own mother's great love story: with her childhood friend, Silvio, and with dashing Scottish sea captain John Lawrie McVicars, the father Matelda never knew. . . .
In the halcyon past, Domenica Cabrelli thrives in the coastal town of Viareggio until her beloved home becomes unsafe when Italy teeters on the brink of World War II. Her journey takes her from the rocky shores of Marseille to the mystical beauty of Scotland to the dangers of wartime Liverpool—where Italian Scots are imprisoned without cause—as Domenica experiences love, loss, and grief while she longs for home. A hundred years later, her daughter, Matelda, and her granddaughter, Anina, face the same big questions about life and their family's legacy, while Matelda contemplates what is worth fighting for. But Matelda is running out of time, and the two timelines intersect and weave together in unexpected and heartbreaking ways that lead the family to shocking revelations and, ultimately, redemption.
Adult Non-Fiction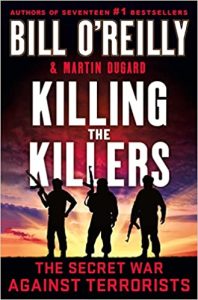 Killing the Killers by Bill O'Reilly
Authors Bill O'Reilly and Martin Dugard take readers deep inside the global war on terror, which began more than twenty years ago on September 11, 2001.
As the World Trade Center buildings collapsed, the Pentagon burned, and a small group of passengers fought desperately to stop a third plane from completing its deadly flight plan, America went on war footing. Killing The Killers narrates America's intense global war against extremists who planned and executed not only the 9/11 attacks, but hundreds of others in America and around the world, and who eventually destroyed entire nations in their relentless quest for power.
Killing The Killers moves from Afghanistan to Iraq, Iran to Yemen, Syria, and Libya, and elsewhere, as the United States fought Al Qaeda, ISIS, and the Iranian Revolutionary Guard, as well as individually targeting the most notorious leaders of these groups. With fresh detail and deeply-sourced information, O'Reilly and Dugard create an unstoppable account of the most important war of our era.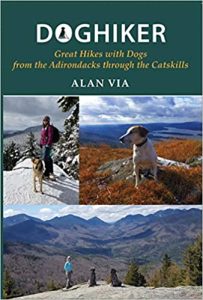 Doghiker: Great Hikes with Dogs from the Adirondacks through the Catskills by Alan Via
A comprehensive guidebook for dog owners that includes seventy-seven great hikes from the Adirondacks through the Catskills.
Much more than a guidebook showing readers great places to hike with their canine companions in upstate New York, Doghiker is a dog owner's operating manual and tool kit. A lifelong dog owner, Alan Via makes a strong case for responsible ownership and offers guidance on selecting a canine hiking companion, training, safety, appropriate gear, canine first aid, and keeping your dog fit and healthy. Covering the Adirondacks through the Catskills, and areas in between, this unique guidebook includes seventy-seven beautiful hikes that are great for dogs. Each hike has a custom topographic map showing parking areas, trails, viewpoints, water sources, and other points of interest. Included are a peak-finder map and chart showing every hike and a summary of rating categories, as well as information on total mileage, elevation gain, ratings for views, difficulty level, dog safety and hazards, hiker traffic, trail conditions, and whether a leash is suggested or required. Detailed driving directions for each outing, including GPS coordinates for key intersections and trailheads, are also provided. By presenting all of this information, drawn from Via's forty-plus years of hike leadership, readers can easily evaluate which hike fits their needs and get outside and explore the great outdoors with their four-legged friends.