Picture Books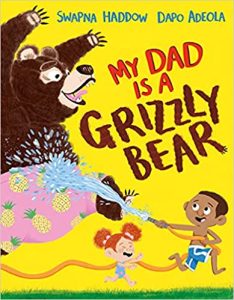 My Dad is a Grizzly Bear by Swapna Haddow
In this family, it's just possible that Dad is a grizzly bear . . . He has fuzzy fur, enormous paws and he loves the outdoors. He sleeps a lot, even at the movies and when he's awake, he's always hungry, usually eating up all the honey, what else could Dad be? But sometimes, when it's scary at night, a lovely big bear hug is just what is needed.
Fiction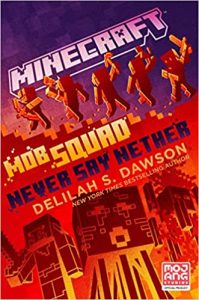 Minecraft Mob Squad: Never Say Nether by Delilah S. Dawson
Things are changing in the town of Cornucopia. The mighty wall that kept the townsfolk sealed off from the outside world is wide open, and the world beyond beckons with the promise of new adventures. The Mob Squad were heroes not so long ago, but the adults are still in charge, and to them, even the most heroic kid is still just a kid.
The Mob Squad's leader, Mal, is still milking cows and dreaming of the next adventure. Their sharp-eyed archer Lenna is learning everything she can about the Overworld, but the horizon is still far away. Fearless warrior Chug is running a store with his brother, but his reputation for breaking stuff has some folks still calling him a bad apple. And his inventive brother, Tok . . .
Wait, where did Tok go?!
When the fourth member of the Mob Squad vanishes in the night, along with most of the town's potions, Cornucopia's elders think they're dealing with a runaway thief. But Tok wouldn't just leave without saying anything. And there's no way he's a potion thief! There's something far more dangerous going on here. And if they're going to stop it, Mal, Lenna, and Chug are on their own. Except, that is, for the one Cornucopian they least want to bring along: Jarro, the worst bully in the Overworld.
But if they're going to find Tok, they can't just be three best friends and one total jerk. They're going to need to learn how to work together all over again—because this is an adventure that can be accomplished only by the Mob Squad!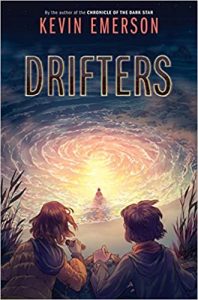 Drifters by Kevin Emerson
Jovie is adrift. She'd been feeling alone ever since her best friend, Micah, left her behind for a new group of friends—but when Micah went missing last fall, Jovie felt truly lost.
Now, months later, the search parties have been called off, and the news alerts have dried up. There's only Jovie, biking around Far Haven, Washington, putting up posters with Micah's face on them, feeling like she's the only one who remembers her friend at all.
This feeling may be far closer to the truth than Jovie knows. As strange storms beset Far Haven, she is shocked to discover that Micah isn't just missing—she's been forgotten completely by everyone in town. And Micah isn't the only one: there are others, roaming the beaches, camped in the old bunkers, who have somehow been lost from the world.
When Jovie and her new friend Sylvan dig deeper, they learn that the town's history is far stranger and more deadly than anyone knows. Something disastrous is heading for Far Haven, and Jovie and Sylvan soon realize that it is up to them to save not only Micah, but everyone else who has been lost to the world and set adrift—now, in the past, and in the future.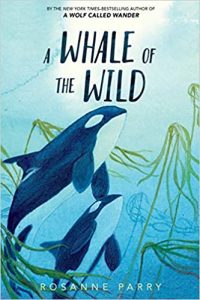 A Whale of the Wild by Rosanne Parry
For Vega and her family, salmon is life. And Vega is learning to be a salmon finder, preparing for the day when she will be her family's matriarch. But then she and her brother Deneb are separated from their pod when a devastating earthquake and tsunami render the seascape unrecognizable. Vega must use every skill she has to lead her brother back to their family. The young orcas face a shark attack, hunger, the deep ocean, and polluted waters on their journey. Will Vega become the leader she's destined to be?
A Whale of the Wild weaves a heart-stopping tale of survival with impeccable research on a delicate ecosystem and threats to marine life. New York Times-bestselling author Rosanne Parry's fluid writing and Lindsay Moore's stunning artwork bring the Salish Sea and its inhabitants to vivid life. An excellent read-aloud and read-alone, this companion to A Wolf Called Wander will captivate fans of The One and Only Ivan and Pax.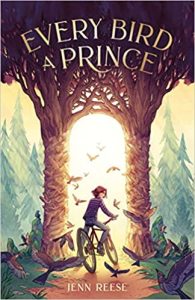 Every Bird a Prince by Jenn Reese
The only time Eren Evers feels like herself is when she's on her bike, racing through the deep woods. While so much of her life at home and at school is flying out of control, the muddy trails and the sting of wind in her face are familiar comforts.
Until she rescues a strange, magical bird, who reveals a shocking secret: their forest kingdom is under attack by an ancient foe―the vile Frostfangs―and the birds need Eren's help to survive.
Seventh grade is hard enough without adding "bird champion" to her list of after-school activities. Lately, Eren's friends seem obsessed with their crushes and the upcoming dance, while Eren can't figure out what a crush should even feel like. Still, if she doesn't play along, they may leave her behind…or just leave her all together. Then the birds enlist one of Eren's classmates, forcing her separate lives to collide.
When her own mother starts behaving oddly, Eren realizes that the Frostfangs―with their insidious whispers―are now hunting outside the woods. In order to save her mom, defend an entire kingdom, and keep the friendships she holds dearest, Eren will need to do something utterly terrifying: be brave enough to embrace her innermost truths, no matter the cost.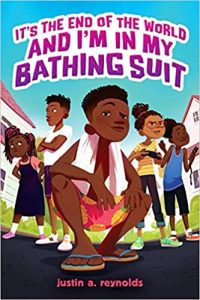 It's the End of the World and I'm in My Bathing Suit by Justin A. Reynolds
Twelve-year-old Eddie Gordon Holloway has concocted his most genius plan ever to avoid chores . . . especially the dreaded L-A-U-N-D-R-Y. If he can wears every item of clothing in his wardrobe, summer will be halfway over before he has to do laundry!
On the day of the highly anticipated Beach Bash, Eddie ends up grounded until he can get his clothes clean. While left home alone to do his laundry, the power goes out mid-cycle. With his first load of laundry soaking wet and the rest still filthy, Eddie sets out to explore the seemingly empty neighborhood in just his swim trunks and flip-flops.
As he meets up with other neighborhood kids to find out what happened, they realize that their families aren't coming back anytime soon. And as night falls, the crew realizes they aren't just the only people left in the neighborhood — they might be the only people left . . . anywhere.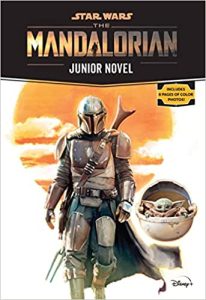 The Mandalorian adapted by Joe Schreiber
After the fall of the Empire but before the emergence of the First Order, a lone bounty hunter known as The Mandalorian travels the outer reaches of the galaxy. When his newest bounty hunting target turns out to be a small Child, the Mandalorian decides the Child must be protected at all costs. Relive all the excitement of the first season of the smash-hit streaming series in this action-packed junior novel by Joe Schreiber! Includes an insert of color photos from the show!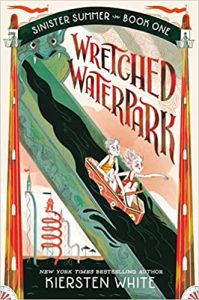 Wretched Waterpark by Kiersten White
Meet the Sinister-Winterbottoms: brave Theo, her timid twin, Alexander, and their older sister, Wil. They're stuck for the summer with their Aunt Saffronia, who doesn't know how often children need to eat and can't use a smartphone, and whose feet never quite seem to touch the floor when she glides—er—walks.
When Aunt Saffronia suggests a week pass to the Fathoms of Fun Waterpark, they hastily agree. But the park is even stranger than Aunt Saffronia. The waterslides look like gray gargoyle tongues. The employees wear creepy black dresses and deliver ominous messages. An impossible figure is at the top of the slide tower, people are disappearing, and suspicious goo is seeping into the wave pool.
Something mysterious is happening at Fathoms of Fun, and it's up to the twins to get to the bottom of it. The mystery, that is. NOT the wave pool. Definitely NOT the wave pool. But are Theo and Alexander out of their depth?
Graphic Novels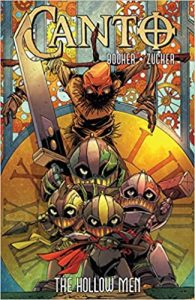 Canto II: The Hollow Men by David Booher
Once, a little tin slave with a clock for a heart broke all the rules–he found love, took a name, and escaped his masters to go on an epic journey to save his beloved. Along the way, he met strange allies and terrifying enemies and, ultimately, though his adventure didn't turn out as planned, he returned to his people and led them to freedom.
The freedom that Canto won so desperately is in danger, as he discovers his people's clocks will stop unless they return to captivity. He and his friends Falco, Rikta, and Veratta embark on a new adventure to save the lives of all their people. On their quest, they'll encounter old friends, relentless monsters, and the village of the mysterious Hollow Men. Will Canto and his friends lift the curse and save their people before time runs out?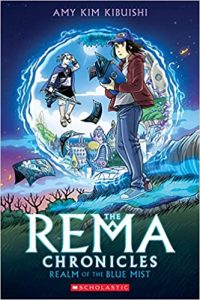 The Rema Chronicles: Realm of the Blue Mist by Amy Kim Kibuishi
Tabby Simon is determined to learn what happened to her father, who was found dead after researching a tree that leaks a mysterious mist in her neighborhood. She is unexpectedly led to Rema, a distant world of magic and beauty that is periodically invaded by a nearby planet desperate for resources. While Tabby searches for the truth surrounding her father's death, she meets a handsome blue-haired boy named Philip. He has his own dangerous secrets, but has promised to help Tabby get home. As she learns more about this strange world, Tabby discovers that she is destined for something far greater than she ever could have imagined.
Non-Fiction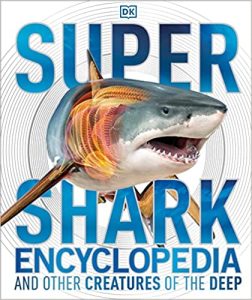 The Super Shark Encyclopedia and Other Creatures of the Deep by Derek Harvey
Uncover our oceans' secrets in this kid's book with a remarkable array of 80 sharks as well as other fascinating sea creatures that lurk in her depths! This comprehensive encyclopedia for children covers a diverse range of ocean inhabitants in mesmerizing detail.
Incredible 3D digital images, breath-taking photography, and intricate cutaways reveal more about the species of the ocean depths than ever before, complemented by informative kid-friendly profile text to turn your little ones into ocean experts!
Super Shark is so much more than just an educational book about sharks. From Barrel Shrimp to Blue Sharks, Starfish to Bat Fish, and Hammerhead Sharks to deep-sea monsters, rays, and eels, this book is packed with unbelievable facts about animal behavior and anatomy. New x-ray artworks utilize cross-sections to strip layers away and show key anatomical features in great detail.
It highlights the deadliest predators and the most venomous creatures and explains how and why their bodies work the way they do. The combination of spectacular photography and clear authoritative text truly makes Super Shark the ultimate visual guide to the oceans' most peculiar creatures and their stories.
What are you waiting for? Dive in and become an expert of the deep blue!
Young Adult Graphic Novels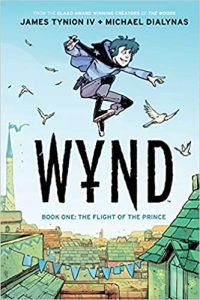 Wynd: The Flight of the Prince by James Tynion IV
In a world where magical heritage is punishable by death, a young boy named Wynd must hide his true identity – and pointy ears – from everyone in Pipetown, even if it means he'll never have the normal life he wants. But when his secret is threatened, Wynd is forced to leave his home behind to embark on a dangerous quest that will put him at the heart of a royal conspiracy beyond imagination. Now on the run with the boy of his dreams, his best friend Oakley, and a literal prince, Wynd will have to embrace the magic within himself if he wants to save them from the shocking dangers that await!